Add the Words work to include gay and transgender people in Idaho's non-discrimination laws
Sticky Notes 2011
Sticky notes 2012
Add the 4 Words Peaceful Civil Disobedience Training 2013
Add the 4 Words Protests 2014

Add the 4 Words in the Capitol
Finally a Hearing on the Add the Words Bill
Add the 4 Words Protests 2015
Arrestees
Nicole on Fear, Anger & Politics

Nicole on Power and Powerlessness
2004 Election as Idaho's first openly LGBT elected official
Nicole's Work on Idaho Economic Policy as a member of House Revenue and Taxation Committee and Senate Appropriations Committee
Anti-Bullying Bill
It Gets Better
Before Add the Words Nicole LeFavour's work and Legislative co-sponsors
Presentation of 2009 coalition bill to Senate State Affairs Committee (ACLU wrote definitions)
Nicole LeFavour: History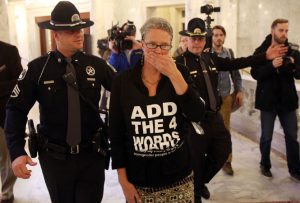 Nicole's Work for Idaho's successful No On One Campaign
Nicole LeFavour was hired in 1994 as statewide Volunteer Coordinator for the Decline to Sign Campaign, a precursor to the No On One Campaign which defeated Idaho's 1994 anti-gay ballot initiative.
Your Family, Friends and Neighbors Co-Chair
Nicole joined the board of directors of YFFN in 1995 after the end of the No On One Campaign. She served as Co-Chair for the organization and as Pride Co-Chair and co-led the social organization Women's Night which held quarterly dances and monthly coffee shop events. From 1995 to 2000 these featured music, theater, poetry and political organizing woven together and welcomed through their doors all who identified as a women regardless of sexual orientation or gender identity.